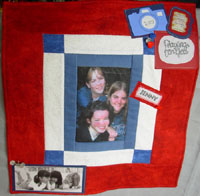 The Memory or Keepsake Quilt Class
Kathy has taught this class. If you are interested in having her teach this class, contact her.
You will love to create your very own keepsake using your photos or photo transfers. You may include memorabilia or special trinkets that you want to preserve to embellish your miniature quilt. Making this wall hanging will only take a few hours. Make it for a special occasion or to give as a gift. Please see supply list if you want to include photos on material in your quilt.
Basic Requirements for the Class
A working machine

Please double check your machine beforehand
Thread some bobbins in a neutral grey or off white, a few of these will be helpful to save time.

Cutting mat,
Olfa cutter with extra blade,
scissors,
seam ripper,
6x24, 6x6 inch rulers with a 45 degree angle,
reg. quilt pins,
Additional Requirements
for the Memory or Keepsake Class
Misc. buttons, trims
Muslin, or plain white or off white fabric for background
Various fabrics, contrasting colors, batiks, hand dyes work great
Pictures, card stock, photo cards, cards or verses printed on paper stock,
If you want to do the photo transfer ahead of time and use that in part of your art piece,

Take your photo to Kinkos with photo transfer paper, or
Business With Pleasure. They will help you with it for a fee. They have paper and charge $7.50 to heat set it to whatever material you provide.