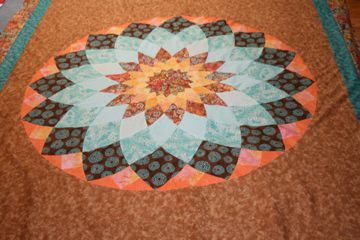 Dahlia Magic Class
This is a very fun effect, and one that will get you many compliments when you get it on your bed.
Basic Requirements for the Class
A working machine

Please double check your machine beforehand
Thread some bobbins in a neutral grey or off white, a few of these will be helpful to save time.

Cutting mat,
Olfa cutter with extra blade,
scissors,
seam ripper,
6x24 and 6x6 inch rulers with a 45 degree angle,
flat flower head pins,
reg. quilt pins,
pin cushion
quilting marking pen or pencil
colored pencils
paper and pencil
Additional Requirements
for the Class
Giant Dahlia Template Set no.8949, by Marti Michell; Available at Eddie's Quilting Bee item no.13109
Fabric Requirements: see chart on page 1 of Giant Dahlia Quilt Instruction book included with the Template Set.
You will not need to decide background or binding, or batting until later. Include varieties of light medium and dark and only a small print in some fabric choices. Batiks and muted dyes work well for this project to give it dimension and luminosity.
To make the best use of your class time I suggest that you:

Select fabrics ahead of time for each template size A-F.
Audition and do a paste up sample.
Then cut using templates all of the Dahlia sections A-E.
F-G-H, are options we will discuss in class.
A last word from Kathy
Here is a printer friendly copy of the class requirements.
If you have questions, feel free to send me an email. Also, if you have friends that would like to take the class with you, it is important to get them signed up as quick as possible. There is a requirement of a certain number of students, or the class will be cancelled.
If you would like assistance in picking materials or coordinating fabrics contact Eddie's Quilting Bee to help you.
Hope to see you in class.
Kathy Rickabaugh