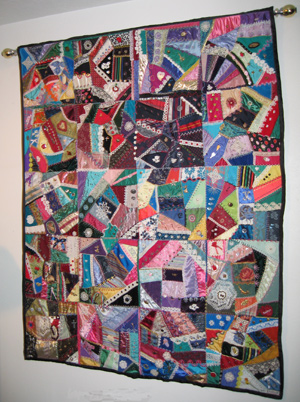 The Crazy Quilt Class
We will be assembling crazy quilt blocks using various cutting and sewing techniques. This is a quick and easy method for producing simple blocks in that old fashioned scrap quilt look; you may use your fabric stash or buy new coordinating fabric for an artistic style. You will need a machine that does different decorative stitches. This will be your chance to experiment with embellishments and different thread colors to enhance each piece of your crazy quilt block. This is a beginning to intermediate class; sewing experience will be very helpful. You will need to know how to use the different stitches on your own machine. If you borrow a machine, you must take a basic sewing class 1st.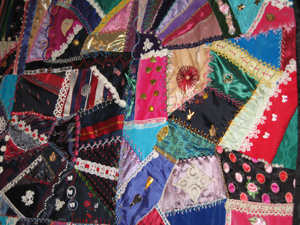 We will be assembling blocks in class that you can make into a quilt or frame. If you choose to do a wall hanging or baby/lap size you will want to include additional yardage.
Basic Requirements for the Class
A working machine

Please double check your machine beforehand
Thread some bobbins in a neutral grey or off white, a few of these will be helpful to save time.

Cutting mat,
Olfa cutter with extra blade,
scissors,
seam ripper,
6x24, 6x6 inch rulers with a 45 degree angle,
reg. quilt pins,
Additional Requirements
for the Scrappy Strip Class
Embroidery quality threads for embellishment stitches for use on your own machine (asst. colors).
Assortment of trims, braids, lace, hankies, buttons, trinkets, ribbons.
Fabric Requirements:

3 yards of fabric – print with interest for fussy cutting
1-3 yards of muslin depending on size you choose to make
Border fabric and background fabric- 2 – 2 ½ yards
Your scrap bag

– to make it portable choose 3-5 coordinating colors Examples: Rose, off-white, and green; or Red, White and Blue- theme,
Could make it all 30's reproduction prints, (Ex; pastels, small printed fabrics)
Include some basic colored fabrics or neutrals. Include light, medium and dark.
Miscellaneous fabric scraps – at least ¼-½ yard of each of your main fabric choices, coordinating fabric choices before hand will help you be more prepared

Binding: 2 – 2 ½ yards (*if choose bias binding, may need more yardage)
Batting and backing to measure finished size of quilt (This can be your choice)
Optional: Wash away interfacing 1-2pkgs., Or 1-1/2 yds.